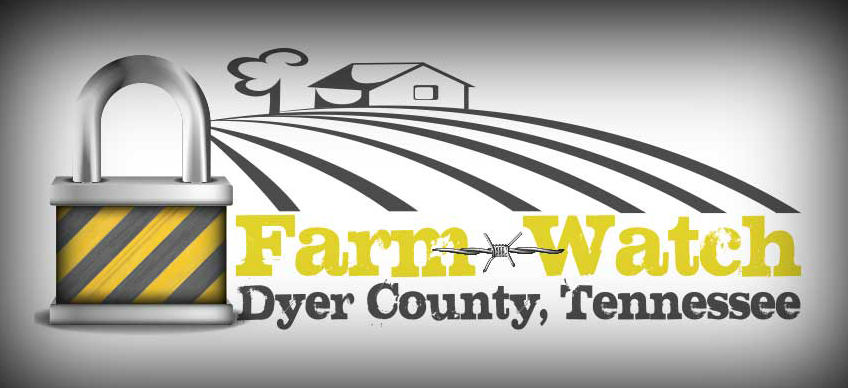 Rural Crime Prevention Program
A Coalition of Producers, Farms, Agri-Business and Law Enforcement.
Combat farm theft and vandalism
On site monitoring connected to DCSO
Strategic surveillance and monitoring
Owner Applied Numbers on equipment and tools
Wire Rat anti theft devices/alarms for pivots
Farm Watch warning signs and decals
Coded wire
Increased Patrols
Communication and Networking
Farm Alert Program
Program Purpose: To take an increased role in the prevention of Agriculture crimes in Dyer County by encouraging producers to participate with Law Enforcement in an Agriculture Crime Prevention Program utilizing the latest Technology, Information Sharing and Best Practice Operations.
Crime in rural and agriculture communities is estimated at 5 billion dollars in losses annually. Agriculture crimes include theft of livestock, equipment, wire, seed, fertilizer and pesticides. Additionally vandalism and other form of property crimes contribute to loss. Costs of crimes are absorbed by farmers in the form of loss of profit, increased insurance premiums, and higher costs of doing business. Despite the magnitude of crime in this sector, agriculture crime has received little attention from criminologists and policymakers.
"Many Tennessee farmers are victims of rural crimes. The Sheriff's Office works hard to prevent rural crimes. We are proud to continue to protect and serve our community which includes many producers who work hard to put food on our dinner tables. Enforcement alone is not the best method to protect our agricultural community. There is a nationwide need for added security measures. Farm Watch has been designed to meet this demand by increasing awareness, fostering relationships between farmers/landowners and local law enforcement agencies, striving to prevent thefts, vandalism and crimes against property and property owners in Dyer County."
Jeff Box, Sheriff
Dyer Co. Farm Watch Program, Est. 2013
Join this program for free.
Printable PDF or Fillable Excel Form

(Then complete the form mail or deliver form to the Dyer County Sheriff's Office)